Cleaning Processes - How Do You Get Your Home Spotless?
15 January 2014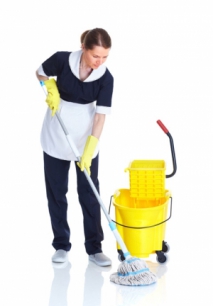 With the general consensus on domestic cleaning being that it is extremely boring, and tiresome work, you will no doubt be hoping to reduce the amount of time you have to spend doing such things. If this is the case, then there is a lot of reason to look in to getting a professional cleaning service involved, so that you are never at any risk of not doing the job well enough, nor getting bored of the whole thing! Whilst a domestic cleaning company will be able to give you an incredible cleaning service, you may well find that there are many things that you could be getting one yourself, so it is best that you go about the cleaning in a way that encourages a combination of personal and professional cleaning, so that you are relying on neither. Getting little bits of housework done throughout the day is easy if you know how to use your time efficiently, so have a look over the following tips and tricks for a good set of places to start with your house cleaning.
1. Find the time
If you can, have the cleaning on your mind at all times, so that 'down' moments throughout the day don't get wasted. You will no doubt be extremely busy most of the time, but there are various points throughout the day where you will probably be able to fit things in. Waiting for the kettle to boil, or for your program to come on the TV will all be points at which you can wipe down the kitchen, or dust off a few bits and pieces throughout the house. With regard to ensuring that these jobs only take the shortest amount of time possible, it may be necessary to up the regularity with which you do them, so that the dirt build up between cleans is lessened.
2. Look into your tools
When you are cleaning a house with lots of stairs, you don't want to be wasting loads of time with lugging the vacuum up and down all the time. You will find that certain tools and cleaning methods are more suited to certain houses and flats, so look at the things that you use to clean with and see if they are making your life easier or harder when you come to use them. Ensuring that your job takes the minimum effort and time out of your day will be the path to less hassle and great results.
3. Get a great house cleaning service
When you have sorted your little bits and bobs around the house each day, there will often be much more important and larger cleaning jobs that need to be sorted. Larger and more specialist cleaning tasks should be handled by trained professionals, and a decent cleaning service will be exactly what you need to get your place looking great all year round. Hiring a decent cleaning company will mean that all manner of carpet cleaning, upholstery cleaning and even specialist jobs on rarer surfaces will be sorted by them. You can be sure to get rid of any risk of messing up expensive materials or finishes, as the cleaning company will likely have the requisite knowledge to get things cleaned with zero chance of any damage being done.
Keeping the balance between cleaning yourself and having a cleaner in will mean that you are able to get the place looking incredible, but without having to completely rely on someone else, which is certainly the best way to be!
You may also like: